Boost your events' visibility and sell more tickets with us
Learn how you can give your event added exposure among Peatix users with four easy ways
"Peatix boost has helped spread awareness amongst its general customer base and it can be helpful for some Peatix users to see a Comedy Event they might not have heard of previously."
Umar Rana
Founder of Comedy Masala
Four Effective Ways to Promote Your Events
Featured Events
Heighten the visibility of your event by having it prominently placed on our Featured Events list.

How it works: The Featured Events list is one of the first segments displayed on the Peatix app, mobile & web browser.

Great for organisers looking to increase the visibility of their event to more than 77,000 monthly visitors in Malaysia.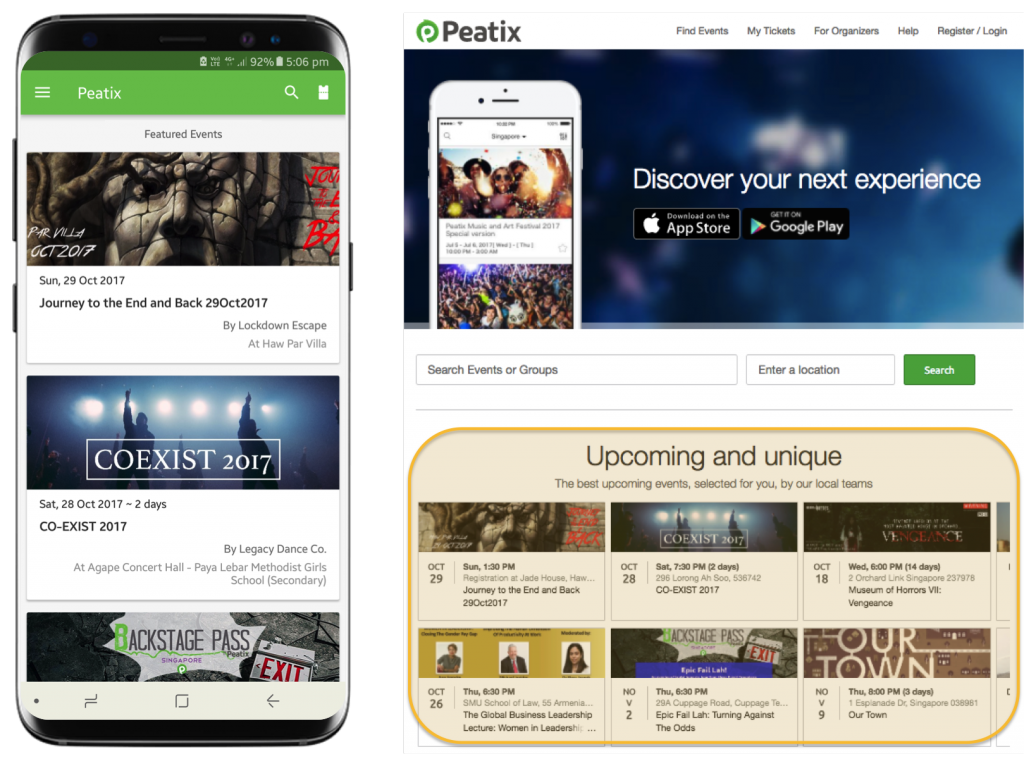 Category Search
Increase the discoverability of your event by having it show up in the Top 6 spots when users search for events in a specific category.

How it works: With 17 categories to choose from, users browsing the Peatix app, mobile & web browser for events in that category are more likely to view your page when searching for events of similar categories and tags.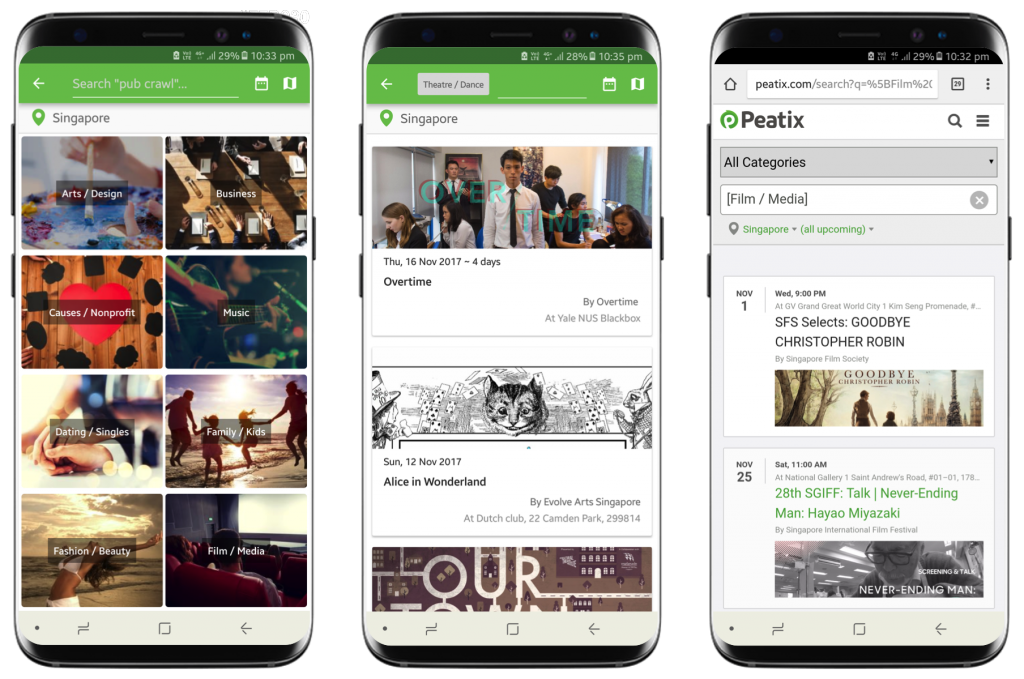 Categories available: (1) Arts/Design (2) Business (3) Causes/Nonprofit (4) Music (5) Dating/Singles (6) Family/Kids (7) Fashion/Beauty (8) Film/Media (9) Food/Drink (10) Meetups/Community Events (11) Parties/Nightlife (12) Religion/Spirituality (13) Science/Technology (14) Seminars/Talks (15) Sports/Wellness (16) Startup/Entrepreneurship (17) Theatre/Dance
Recommendation Email
Through our targeted Recommendation Emails, you can reach out to new and wider audiences directly via their email.
Peatix users who receive Recommendation Emails are attendees who have previously purchased tickets for events in the same categories.
How it works: These Recommendation Emails show them events that are consistent with their lifestyle based on similar past-purchase behaviour, resulting in higher engagement as the content is relevant to them.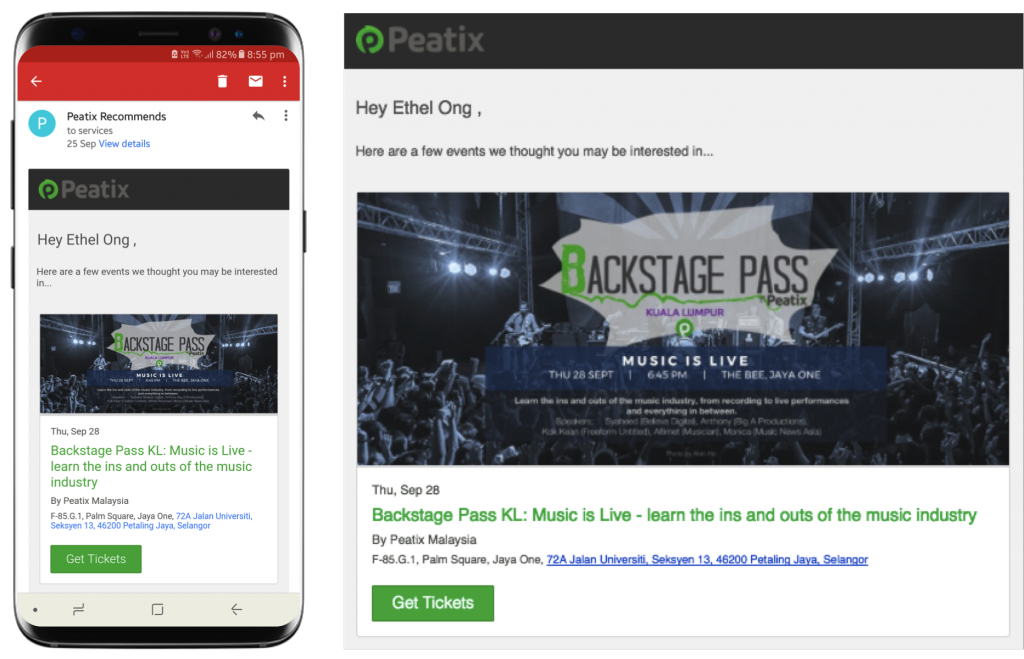 External Link
Are you restricted by external platforms but keen to promote your event to the Peatix database?
Have the best of both worlds with Peatix's External Link feature.
How it works: The External Link feature enables users, app & web visitors (>77K monthly visitors in MY) to discover and receive recommendations of your event on Peatix, and can be seamlessly redirected to your own website to complete registration.
Promote your event further with Category/Tag Search, Featured Events, Recommendation Emails & External Link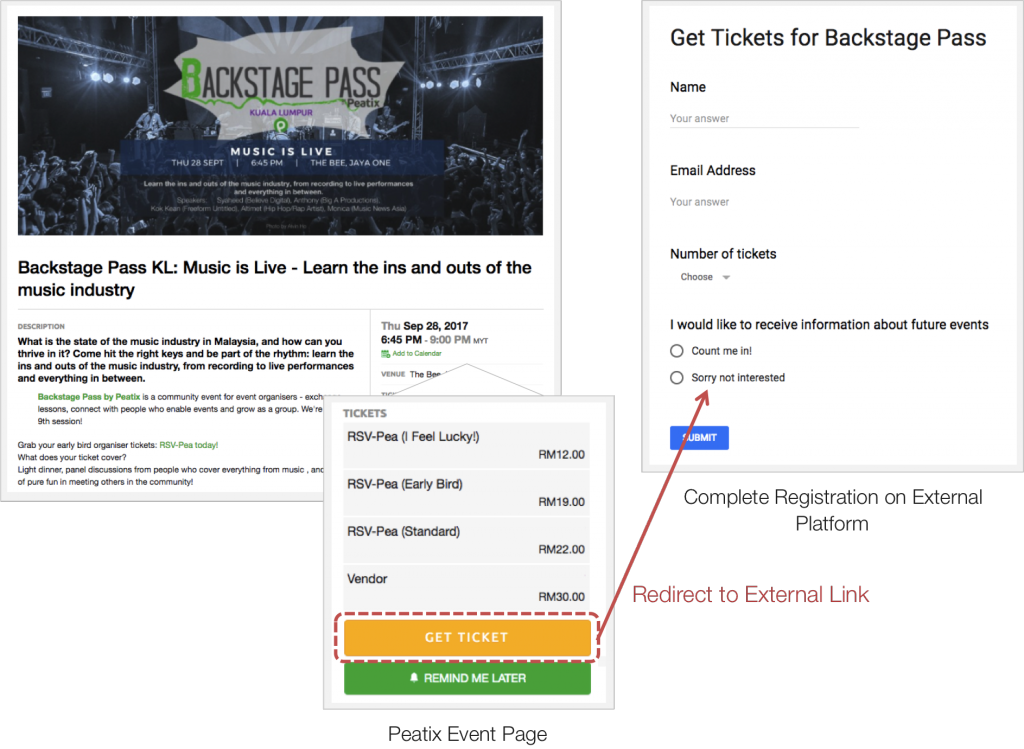 Placement on app & web
Placement on homepage & search
Top 6 Placement on Selected Category and/or Topic
Placement on app & web

Targets attendees searching for events in a specific category
Targeted email to attendees based on past purchase behaviour
Reach attendees in their inbox

Targets attendees who have purchased tickets to similar events
Links out to External Ticketing Site
Discoverable on app & web

Tagged to event categories and recommended to relevant users
Would you like to use Peatix Boost to gain increased visibility for your events amongst a curated audience?