Your help desk for event success.
Let us sweat the small (but important) stuff for you.
Select from our suite of event solutions.
How can we help you today?
Curate Your Attendees
Expecting an overwhelming response for your event but have limited venue capacity?
Does the quality of your attendees matter to you?
Wish to prioritise certain groups of attendees over others?
Curate your event attendees with the Peatix Selection feature. Get the right mix and quality of attendees for higher audience engagement and a great event experience for everyone.
Activation fee is S$109 per event.
Secondary Ticketing
Concerned that your event may have a ticket scalping problem? Put your mind at ease with Peatix Secondary Ticketing.
Key features:
Event organisers can set an upper limit on the ticket resale price
Ticket reseller incurs a premium fee if asking price exceeds original ticket price, a portion of which goes to the event organiser
Ticket fraud is prevented as resale of tickets happen within the Peatix platform
Peatix takes a 50% cut from the premium fees collected; the rest of which goes to the event organiser.
Boost Visibility for Your Event
Give your event that extra exposure among our users with Peatix Boost.
Explore 4 effective ways to promote your event:
Featured Events & Groups
Category Search
Targeted Recommendation Email
Link out to External Ticketing Site
Prices start at S$5 per day.
Advance Payout (On Hold)
Need to pay for event expenses like speaker fees, catering and venue hire in advance? We've got you covered.
Our advance payout service allows you to receive a portion of your ticket sales prior to your event.
Peatix fee for advance payout events: 8% + S$0.99 per ticket
Have questions on Peatix Concierge? Send them our way.
We're committed to the success of your events
"Peatix has been exemplary in their service since Day 1 - being on the frontline with us at events & ensuring that our door team is well-prepared for check-ins. We can count on them to make it a good experience for us as organisers and for our event attendees."
"We have been working with Peatix for Penang Anime Matsuri for 3 years. They get better every year with their services and in advancing their ticketing system to support our growing events. Definitely a long term partner for PAM."
"Peatix provided onsite check-in support for my event and they were top-notch. Check-ins went off without a hitch; fans were seated promptly."
Peatix is a global community building and event ticketing platform that provides event organisers with powerful tools to grow communities, create, promote, manage and sell out events of all sizes. From concerts to conferences and everything in between, Peatix's innovative, mobile-centric solution for event management has served over 100,000 events as part of 60,000 interest groups across 27 countries since its inception in May 2011.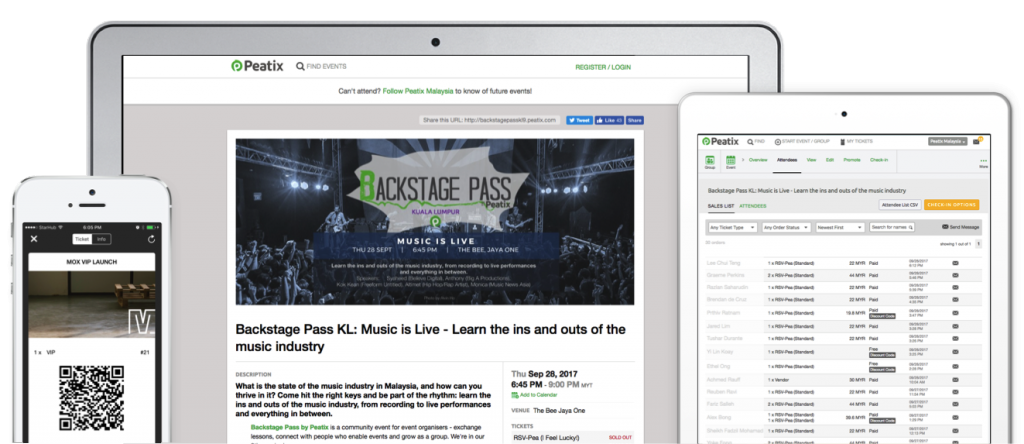 Have questions on Peatix Concierge? Send them our way.